The catalyst for this group was based upon my experiences walking, cycling, running and driving around New Tampa. I had (and continue to have) too many near runs in with vehicles and witnessing really bad driving behaviour. This ranged from drivers failing to stop for me or my child in crosswalks, to parents dropping their kids off in the middle of the road to avoid the car rider line. When I started off in public health, I never expected pedestrian and cyclist safety to be my biggest focus. Yet here I am. And I think its aptly suited since public health should be identifying key issues and target populations instead of pushing agendas on communities. If you live in the New Tampa area, feel free to join our group. You can find us on Facebook and NextDoor. Our mission is to:
increase driver consciousness around pedestrian and cyclist safety in our neighborhood;
increase law enforcement presence and enforcement of road safety in our community;
make texting while driving a ticket-able first offense (UPDATE: this has happened!);
increase road design and infrastructure to make our neighborhood more pedestrian and cyclist friendly.
If you live in the Cross Creek Community and are tired of people cutting in at the intersection of Bruce B. Downs Blvd. and Cross Creek Blvd. while taking a right hand turn onto Cross Creek Blvd. then this cause is for you! If are feel you are being mowed down by cars while walking thru a pedestrian crossing, then this cause is for you! If you are afraid of cars flying thru your residential neighborhood, get involved. By advocating our concerns and ideas to our local law enforcement and government representatives, we can make the change we want to see.
If you live in K-bar Ranch and would like to see a crossing guard at the intersection of Bassett Creek Dr. and Wild Tamarind Dr., then let me know! (UPDATE: We got one!). All ready I have started the campaign to install a cross walk for children attending Pride Elementary next year and I need support to push for a crossing guard (UPDATE: Got one of these too-see it pays to be an active community advocate 🙂.
Continue reading to see what we are doing in this community and what he have accomplished, as well as ways you can advocate in New Tampa or your own community to make it more pedestrian and cyclist safe.
Helpful Info
How to make a sign request– City of Tampa.
If you are wanting to request a sign in your Tampa Neighborhood, there is a link on the City of Tampa's website https://apps.tampagov.net/appl_customer_service_center/form.asp?strServiceID=324
Personally, I am advocating for better signage at the Kinnan Street Cross walk in New Tampa. If you would also like to join me, please tell our local government by making your request at the following Hillsborough County website. Ideally, the picture below is what we would like to see on Kinnan. Flashing beacons that can be activated at the crosswalk by pedestrians. Often, drivers are unaware that pedestrians have the right-of-way in any marked crosswalk, whether there are flashing beacons or not. Same as true at non-intersection crosswalks. Pedestrians always have the right-of-way in Florida. Here is the law if you don't believe me 🙂
UPDATE- July 2nd, 2018: Tonight New Tampa Community Members are gathering at the New Tampa public library to discuss road safety in our neighborhood. Please join us at 7pm if you would like to share specific problem areas and/or solutions in the New Tampa area. The library is located on Cross Creek Blvd.
UPDATE- Aug. 6th, 2018: Thank you to everyone who came out July 2nd. If you want a copy of the meeting notes. Please message me your email. Also, we are looking to have our next community meeting on Aug. 13th. Please join us to hear Gena Torres from Vision Zero.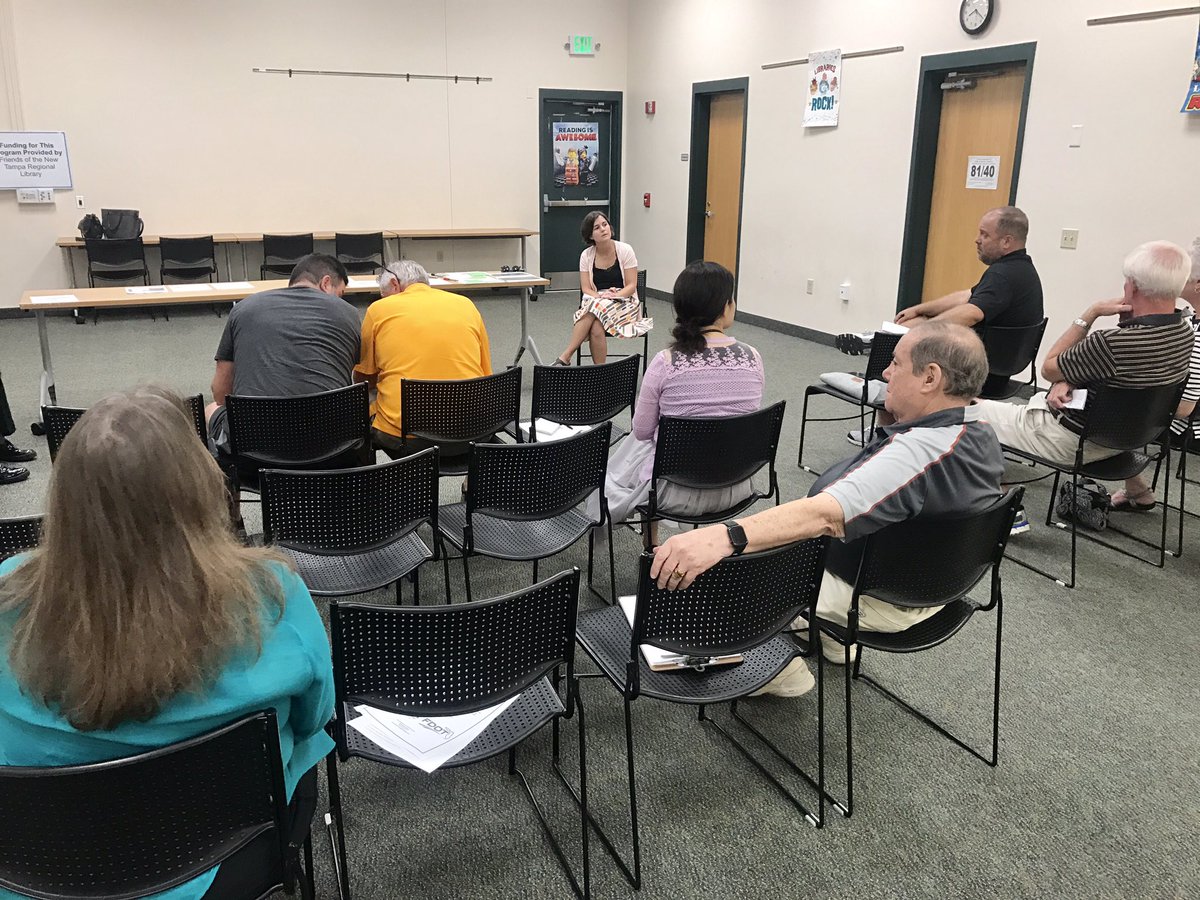 UPDATE-Aug. 2019: We got crossing guards at Benito Middle School! I can't tell you how grateful I am for the Hillsborough County Sheriff's Office for changing their policy and agreeing to provide crossing guards at middle schools AND for making Benito Middle School one of the first recipients of this change!
UPDATE- Nov. 2019: Pete Mirones and I met with Robert Campbell from Hillsborough County to discuss various "hot spots" around New Tampa. While we were meeting with him, we all witnessed cyclists trying to cross the intersection of Bruce B. Downs Blvd. and
Cross Creek Blvd. when the pedestrian light was engaged. Unfortunately, many drivers did not yield or stop for the cyclist, even when they were in the crosswalk.
Here is a list of what we requested and the responses (italicized) we have received thus far:
Cross Creek Blvd. and Bruce B. Downs Blvd (BBD)– sent to Traffic Engineering
A "No-right-on-red" light when the Crosswalk button has been activated for both the right onto Cross Creek Blvd. from BBD and the right onto BBD from Cross Creek Blvd.;
Adding a sidewalk on the east side of Cross Creek Blvd. from BBD to Hunter's Green (currently there is not one);
Adding barriers or bollards in or near the bike lane on Bruce B. Downs right hand turning lane into Cross Creek Blvd. to prevent cars from cutting into the right hand turning lane and creating a second turning lane;
Extending the median on Cross Creek Blvd. to create a Median Refuge Island for pedestrians and cyclists trying to cross Cross Creek Blvd. at the intersection;
Removing the current sign that says the sidewalk is closed when it isn't at the intersection; Send to Amos Castillo for inspection
Changing the current sign that says yield to pedestrians to include cyclist (symbol of bike and pedestrian, as shown on other BBD signs);
Kinnan Street (crosswalk located right before Basset Creek Drive) – sent to Traffic Engineering
Running the speed display sign at all times for 6 months, not just during school hours (there is a speed display sign there now); No
Adding a rapid flashing beacon at the crosswalk on Kinnan Street;
Raising the crosswalk;
Inserting a must stop for pedestrians sign in the middle of the crosswalk – No
Fletcher Avenue and Bruce B. Downs Intersection west bound (corner of Advent Hospital)- sent to Traffic Eng and TMC Operations
A "No-right-on-red" light when the Crosswalk button has been activated – TMC on the progression reduction if implemented
Adding something to make the bike lane more secure as right now a cyclist isn't able to use it with the amount of cars that sit in it while trying to get into the right hand land or turn right on BBD.
 Since we have met with Mr. Campbell, we have received two case numbers or work orders from Hillsborough County Traffic Engineering. They are SR333549 and WR1435824. Michael Flick from Traffic Engineering has been in contact and he was informed me that they have tasked a consultant from JMP to survey this area and our requests. Sara Bursheim from JMP is the engineer assigned to these requests from JMP. I have not had the pleasure of speaking with her yet.
Trout Creek Bridge Request
We would like to thank Mr. Campbell for not only coming out but for also for helping to remove the concrete in the gutter north of Trout Creek Bridge 🙂
As we continue to make progress and are provided updates, I will add to this post or create a new one. It is never too late to join our efforts. We need a variety of people to help out. Whether its writing a letter or attending a meeting to represent our area, your help is vital! Please feel free to join us.
https://www.facebook.com/groups/436566393518580/
Thank you for reading!